1 or 2 Pairs Of Babies Sock Ons Sock Keepers - 12-18 MONTHS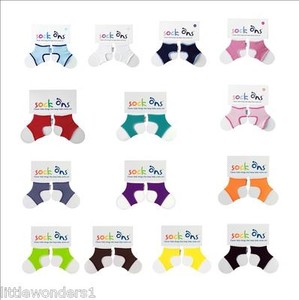 ---
Sock Ons 12-18 Months (New Size)
Sock Ons are clever little things that keep baby socks on!
How many socks do you reckon your baby has lost in their lifetime? Ten or twenty? Maybe more? Worse still, it always seems to be one in each pair doesn't it?
With a family of six small boys to take care of, Kezi Levin had to do something about her family's sock bill, and so came up with the idea for Sock Ons, an amazingly simple little gadget to stop socks going astray.
Made of soft, stretchy material, Sock Ons are designed to fit over regular socks, keeping them firmly in place no matter how hard your baby kicks and tugs. It really is one of those ideas you wish you'd thought of first!
Sock Ons have gone through years of research and development -the result is funky and fashionable patent pending product that actually works! Sock Ons are now an essential item that no baby (or sane parent) can do without!
Lovely Colour Choices Available!
LITTLE WONDERS WILL AIM TO POST OUT SAME DAY DISPATCH IF ORDER IS RECEIVED BEFORE 12PM
(This excludes Bank Holidays & Weekends)
FREE UK POSTAGE - 2ND CLASS ROYAL MAIL.
( INCS: Channel Islands, Northern Ireland & Scottish Highlands & Islands)
 (1ST CLASS AVAILABLE AT EXTRA COST - PLEASE CHOOSE AT CHECKOUT BEFORE PURCHASING)
Check out my other items!
Be sure to add me to your favourites list!
SORRY WE DO NOT SHIP TO PO BOX ADDRESSES