Destiny Ghost with moving eye and LED option. Customizable color, easy to use.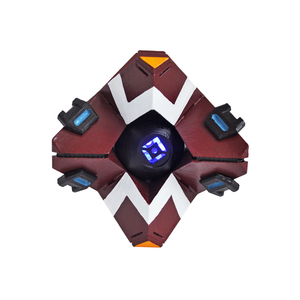 ---
TYPE html>    
  Destiny Ghost with moving eye and LED option. Customizable color, easy to use.  
Description
Hello!
This is a fun-art 3D printed Ghost, inspired by the game Destiny. It is 3D printed of PLA plastic (which is friendly to human), hand painted with acrylics and varnished to make the paint remain as long as possible.
Inside there is a small flashlight, so you can easily change the battery if there is such need. This Ghost has magnets inside which hold all parts very good. There is no need to use a strong force to open it up. Very comfortable and easy in use. On it's eye back there is a button to turn on/off the lighting, so no need to disassemble the Ghost.
Dimensions are: 14.5 cm length, 14.5 cm width and 10 cm height.
Average time to make it is about 10-14 days. Depending on amount of orders scheduled shipping date may be a bit delayed. If you'd like to have your order before a special date, please, contact us. Ordering multiple objects will also increase time frame for producing.
If you have questions, don't hesitate to contact us. Thank you!
Shipping Details
  We AIM to get orders dispatched within the timeframe which provided indescription. Each item is made to order, so each item has its specific timeframe for production. After payment is confirmed, we start our work. Please, make sure due to big amount of orders, timeframe for production may be increased. IF you need the item for the specific day (deadlines), please, contact us before the purchase. We use national mailing services, like Royal Mail, DHL, Australian post, USPS etc. Delivery times can vary, depending on your country, Border Customs. Please, consider that sometimes Border Customs holds packages for a long time which increase normal shipping time. Unfortunately, it is not in our power to influence this. Due to different rules on mailing services, packages may require signature on delivery, so make sure you ship the item to the person, who is allowed to pick the package.  
Payment Details
  On We only Accept Paypal payment system. Make sure your shipping address is correct before you checkout. If the shipping is incorrect then as per Policy we cannot change because of security reason. Once the order dispatched we cannot change your shipping address and we are not responsible for item(s) and address you provided.  
Return Policy
  We are happy to Cover all Postage Cost For Faulty/Incorrect Items, as long as they are reported within 2 Days after the item has been received. If you have changed your mind about an order you will be required to cover all postage cost, so will only Receive 80% of monies you paid for the returned items. We will not accept returns if the item is not it the original packaging, used or broken.  
Feedback
  As a seller Positive Feedback is very important to us, as well as our customers. We want all our customers to be happy with there orders, If we have made an error we do apologise, we are only human, let us know so we can rectify it for you, please do speak with us before you Leave us Negative feedback we will do everything we can to put it right.       Copyright ©   DesignedBy