Qgain High Purity MINOXIDIL 5% FOR MEN Extra Strength No Box Free Shipping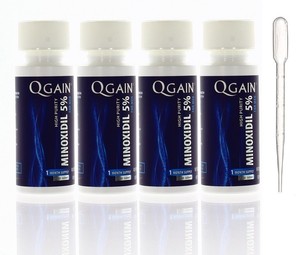 ---
  FREE SHIPPING TO USA BY PRIORITY AIRMAIL  (5 - 8 working days)FREE SHIPPING WORLDWIDE BY PRIORITY AIRMAIL (5 - 15 working days depending on location)Private Listing - Anonymous and Discrete PackagingQGAIN Minoxidil 5% solution 1, 2, 4, 12 Month Supply NO BOX + one dropper like on the picturesYour order might be sent in multiple packages which might be delivered on different daysExpiry Date: 09/2021Qgain MINOXIDIL 5% for Men Minoxidil 5% solution Made in USA to High Standards of Quality Control in FDA approved facility Not for Use by Women Qgain with Minoxidil 5% active ingredient that has a proven track record with hair regrowth results in nearly 85% of users that have alopecia. The Minioxidil ingredient is believed to enhance the hair follicle blood supply thereby accelerating hair growth. The 5 % Minioxidil absorbs onto the scalp and hair to work almost instantly. The easy-to-apply formula has targeted action on bald spots and thinning hair by stimulating hair growth and shows results within a few months of use. Minoxidil: Clinically proven to help regrow hair. •  For men who with thinning of hair on top of the scalp •  Slows or stops hair loss within a few months of use Cautions: • For external use only. • Do not use if you are a woman, not sure of the reason for your hair loss, under 18 years of age or using other medicines on the scalp. • Using more or more often than directed will not improve results. • Avoid contact with eyes. In case of accidental contact with the eyes, rinse with large amounts of cool tap water.

Active Ingredient: Minoxidil USP 5% w/v Inactive Ingredients: Purified Water, Propylene Glycol, Alcohol

DIRECTIONS:

Apply 1ml with dropper twice a day into the scalp in the hair loss area.

Massage into scalp with fingers, then wash hands thoroughly.

Using more or more often than directed will not improve results.

Continued use is necessary to increase and maintain your hair regrowth, or hair loss will begin again.