The Simpsons vs Obey Shepard Fairey - Make art - dictionary page art poster 2A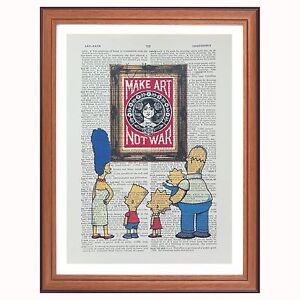 ---
The Simpsons vs Obey Shepard Fairey - Make art -   dictionary art print A unique piece of art for your home or office. 
A unique piece of literary art. Awesome words printed directly onto vintage dictionary pages.
Size: 7.45' x 10.25 inch - 19.5 x 26 cm / vintage dictionary page / Archival inks 
Medium: dictionary fine art print
Style: Ivory tone and natural variations in the paper add a unique vintage look.
Paper: Upcycled vintage dictionary page.
Look: Awesome
Image shown is picture mounted -  Prints do not include the frames or mounts, these are for display purposes only.
Additional items - If you wish to purchase multiple items there will be no extra cost for postage. We are happy to combine items.
Postage and packaging: Each Dictionary print will be packaged in a protective cellophane sleeve and posted in a hardback do not bend envelope.
Large Prints will be carefully rolled and packaged in acid free paper and sent in a sturdy mailing tube. 
Dictionary Art Prints --Each design is individually printed onto a different page of a vintage dictionary book. No two pages will be the same and each item ordered is unique. Each page will have authentic golden-aged color upcycled from old dictionary books. We do not crop our pages and we do not use any pages that are ripped or damaged.
All applicable rights reserved.